Consumed the last carton of frozen split pea soup this week, so decided today would be the day to fire up the Instant Pot (IP) and replenish the frozen soup supply.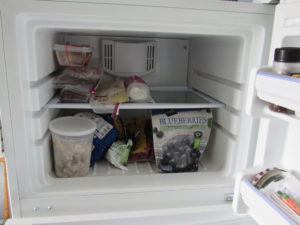 Yesterday morning I drove my dad for a checkup with his doctor and shopped at DiMaio's Market when he was done. It was below freezing all day and although it was sunny by the time we got to the market it was windy too. I decided to get supplies for making chili. I didn't need to urge my father to take refuge in the car to get out of the wind while I loaded the groceries and returned the cart. As we were leaving a young Amish woman in a horse-drawn buggy entered the lot. We looked at each other and said at the same time that it must be pretty cold to travel that way.
Breakfast this morning was polenta (steamed, pot in pot), an over easy egg, and Yunnan tea. When the IP cooled I removed the trivet and emptied the water and wiped the pot with a cloth. Next I rinsed pinto beans that had soaked over night and added them to the pot and covered them with water and set them to cook for 25 minutes with the Bean/Chili setting.
Once they cooked and the pressure came down, into the pot went a can of Rotel tomatoes with lime and cilantro, some Delallo tomato paste, frozen corn, one chopped up chipotle pepper and sauce, salt.
An Instant Pot and induction cooker make a great combination. While I do use the IP's Saute function to brown ingredients for small batches of soup or stew, I left the beans in the pot and used a separate pan to brown a slice of chopped bacon and cumin seed. I then added a pound of ground chuck, then half a large onion chopped, and chili powder. That went into the pot along with a little bit of water to rinse out the last of the skillet goodies.
I replaced the IP lid and used the Bean/Chili setting for 6 minutes and let it go while I washed dishes. So, by 10:30 am, had a savory pot of chili. Making chili from scratch used to take most of a day.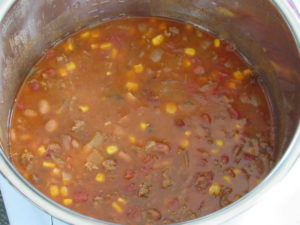 I ate some of the chili for brunch, now waiting for the remainder to cool before dividing it into individual portions to freeze.