Some time ago I made a holder to organize my circular knitting needles. It is a simple rectangle of leftover fabric doubled over and stitched to make horizontal channels for the circs. I folded up the bottom and added vertical stitches to make pockets for the sock needles I use most frequently. A knitting needle gauge fits into the top channel. In the photo a set of steel guernsey "pins" hangs from the hook. They are a fairly recent acquisition and I am still figuring out how to store them.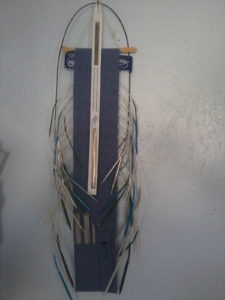 I got my 1960s vintage Sears portable sewing machine out a few days ago. One of my white blouses wore through on the elbow. I cut the long sleeves off and hemmed them to make a short sleeved summer blouse. There are several other projects I need to get moving on so decided it would be good to leave the machine out and make it a cover to keep it from getting dusty and slow the evaporation of machine oil.
I used an old cotton/polyester blend pillow slip. First I ripped out the hemmed opening and sewed it shut (to get more length). Then I pinned it together to check for fit, then folded it and sewed the sides with the pocket turned inside. Then I turned it right side out and made a vertical seam to form two pockets that hold the machine's manual and a printout of its schematics I downloaded several years ago.
I didn't try to "box" the corners because I wanted the cover to lay flat to store the manuals while the machine is in the case. The configuration of the pockets could be adjusted to hold small sewing tools such as scissors, needle packets, measuring tape, etc.
This is the layout that fits my vintage Sears portable. The top and side edges are the original seams, so the entire cover is double fabric. The sewn shut opening forms the top of the pocket. If I were using fabric scraps, I would line and/or interface the front and back then make a finished seam at the sides.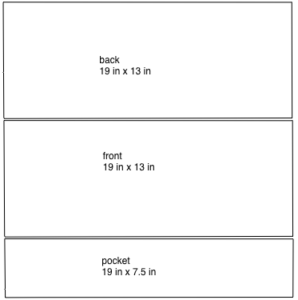 I still have some polyester and cotton/polyester blends (checked with the burn test) in my stash as well as sewn items needing to be recycled. They are good candidates for dust covers.