I adopted a little dog named Atticus and brought him home a week ago today, ending the longest time I had been without a pet since the mid-1980s. Losing Bode was hard, but I am grateful for the six years we had together. There is no way there will ever be a replacement for Bode. When I got up the courage to visit Orphans of the Storm on April 18 though, the volunteers introduced me to a dog who was distinctly different in size, color, breed, and personality so we are now getting to know each other — building a new relationship.
I do find myself comparing the two dogs though, like Bode was an omnivore and would eat almost anything (including veggies) that couldn't crawl away and at any time of day or night. Atticus is rather cautious, mainly likes meat for treats, and only eats in the afternoon and evening. There is one of Bode's characteristics that Atticus shares: everyone is his friend.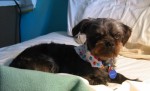 There are reminders of Ling Ling too. Atticus is cat size, has soft fur and a dark face with big eyes and whiskers. He loves to curl up on my lap or snuggle up to snooze and has claimed the bed for his own. There were gestures too. The first night or two were frosty and Atticus came to the edge of my blanket and pawed it exactly the way Ling Ling used to when he wanted to go under to get warm. He loves it when you run a hand under the blanket for him to chase too. Walking Atticus is a lot like walking Ling Ling on a leash. Ling Ling would fetch though and so far Atticus doesn't seem to care to play that way.
There were some mistakes, like the first day when I thought Atticus was whimpering because he wanted food but he needed to go out. The sound I hear the most is when Atticus shakes, which is cute, especially when the vibration reaches his little butt raising his hind legs from the ground. The loudest sounds he has made are two yips when the vet checked his ears on Wednesday and reverse sneezing which doesn't happen very often.
The shelter listed his breed as Shih Tzu with some Jack Russell Terrier. At 8 pounds, Atticus is smaller than either breed, so the terrier part may be a toy breed like Yorkie, Maltese, Chihuahua, perhaps even Affenpinscher although I have not seen a lot of that breed around here. His body is long, like Shih Tzu, but narrow in the shoulders, chest, and hips and longer legs. With his tail clipped short it often looks like a question mark rather than a plume when it curls over his back. He looks really cool when he is out on the leash, trotting or bounding on those little feet, the tail curved over his back, and his ears laid back against his round head, leading with that little snub nose. It will be interesting to see how his appearance changes as his fur grows out. The verdict is that whatever is in the mix, he came out very cute and with good characteristics of several breeds.
The people at Orphans said that Atticus was very shy when he first came, so we had frequent visits before I took him home on April 27. By the time of my first visit though he had gotten beyond that. When we left the shelter, he took me on his regular round of the exercise field confidently, but when we went to my car instead of back inside he was a bit anxious, did his little whimper and looked out the windows. Looks like we will need to work on having car rides that end up at fun places.
We have dealt with separation anxiety. He didn't want me out of sight and showed concern when I approached the door at first when I brought him home. He used the sweater that I wore to the shelter for visits for a blankie, figured keeping the familiar odors was worth a delay in washing it. Yesterday he handled my several trips to the laundry room just fine and greeted me calmly when I came back.
I hope for the best, but should my medical problems become worse so that I can't care for him, the shelter will take Atticus back to a place he knows with kind people to care for him while they find him a new home. He should never have to share Bode's experience of becoming a stray.