Blue clouds of forget-me-not appeared in my yard as the last daffodils faded.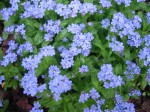 The hostas are coming up. The Weigela bush is starting to leaf out, usually blooms toward the end of May. My neighbors have cherry blossoms, magnolia, and some early azaleas blooming.
It has been a damp spring, but have had a few sunny days. The ground is too wet to plant much of anything but it makes pulling weeds quite easy.
I put most of my plants outdoors on the deck two weeks ago, but they are in pots just in case we get a freeze and until the ground dries out a bit. Outdoors feels like a greenhouse many days.
I finished the last black raspberries from the freezer this morning. The canes have leafed out and here is hoping this will be a good year for them again.
While we get our "liquid sunshine" there are plenty of things to do indoors.
Techie stuff
My AGFA SnapScan Touch scanner that I bought used several years before I moved from Milwaukee finally refused to start. I have funeral cards and newspaper clippings from mother's collection to archive, so was not a good time. I do scans to back up papers, document needlework projects, and archive old photos too.
On a hunch I looked through my collection of power adaptors and plugged it in with a 9 V 1000 milliamp power supply. The light came one but it just didn't have enough juice to run or for the computer to recognize it through the USB interface. I looked into ordering a new 12 V 1.25 Amp power adaptor, but decided it was time to invest in a new scanner, so I have an early birthday present on the way. I chose scanner that will also handle 35 mm slides and film negatives. When it arrives, I plan to put the AGFA scanner up on FreeCycle.
Genealogy breakthrough
I visited the Mildred Lankard Thomas Genealogy Library on Sunday afternoon for the Genealogy Committee meeting. While browsing I found a lead on a g-g-grandmother, Mariah Graydon. One of the binders in the library collection had a hand written tree that said that the Graydon/Graden family lived in Rural Valley (then called Rural Village) in the late 1800s. I did a bit of online digging and found her and her family listed in the both the 1860 and 1870 Cowanshannock Township census records. Woohoo!
Now on to the White and Geiger ancestors. I am not at the place where I consider these brick walls, at least not yet…
Needlework
I have been knitting at a pair of gray heather socks in fine yarn (#0 needles) and am approaching the ball of the foot. A few months ago I made a circular hot pad using some T-shirt "yarn" (Tarn). I made a garter stitch dish cloth in Lily Sugar 'n Cream cotton then used the remainder of the ball to make a round shepherd's knitting (slip stitch crochet) wash cloth.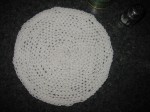 Starting a circular slip stitch crochet project can be tricky, you need to go from zero to 6 or 8 stitches immediately. There were lots of "bumps" in the center, but finally settled on these two approaches:
Loop
Make a loop around your finger or thumb and into the center make four slip stitches alternating with 4 chains.
round 2: 8 slip stitches (through the back loop) in the chains and slip stitches from the first "round"
round 3: slip stitch 1, chain one, repeat (16 stitches around)
round 4 and subsequent even rounds: slip stitch even around
round 5 and odd rows: slip stitch 2, chain 1 — increase by making a chain 8 times evenly spaced every second round.
Pull the yarn to tighten the starting loop.
Chain
round 1: chain 2
round 2: turn and slip stitch one into nearest chain, chain 1, slip stitch 1, chain one; slip stitch 1 and chain 1 twice into next chain stitch
round 3: slip stitch through the back loop 8 times around
round 4: slip stitch 1, chain 1 around (16 stitches)
round 5 and subsequent odd rounds: slip stitch around
round 6 and subsequent even rounds: increase by adding 8 chain stitches evenly spaced — slip stitch 1, chain 1 around; slip stitch 2, chain 1 around; slip stitch 3, chain one…
End with a odd (non-increase) row. For the cloth pictured above, that was 80 stitches around, 9 inches in diameter.
For Lily Sugar 'n Cream cotton yarn, I used a size P crochet hook — you need that and to work loosely to get an open texture.
If you want to make a circular hot pad or mat, you can use a size K (6.5 mm) hook to get a firmer texture.