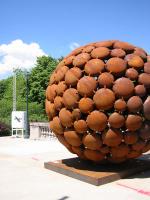 There was surprise, a new sculpture, at the west end of the Kilbourn Street bridge, near the south entrance to Pere Marquette Park. No plaque so far, but a striking addition.
The pair of mallard ducks was still beside the river at the north side of the park. Not sure if they have a nest. I continued north crossing and recrossing the river at each bridge. Fortunately the lawn treatment chemical stench at the Marcus Center for Performing Arts so evident last week is beginning to fade away.
I saw a number of kayaks and a canoe, only one motor powered boat. The view from Juneau Avenue was lovely.