Below: Live capture trap with mouse inside.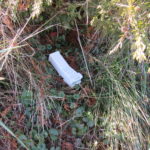 After the furry little party animals interrupted my sleep several nights in a row I decided to reinstitute the capture and release program averaging one mouse a day for the past six days. At first I thought I should release them immediately, but since they are active at night that meant going out in the dark. Figured some down time in detention might help discourage them from returning.
About half way down to the creek near a hay field there is a tree with some long grass under it, pictured above. A nice mousey nest. They are awfully cute but best appreciated at a distance.
View from mouse release point this afternoon: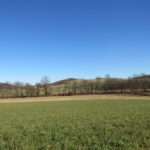 (Photos from my new Canon PowerShot SX530 HS camera.)