Atticus is adjusting well to the new place. Wherever I sleep is always the first nest. While we were staying at my dad's place, he slept on my blanket on the sofa, only going into my dad's room one night when the little guy apparently convinced himself that my dad had hidden a toy in his pocket and searched through all the clothes that were out. Despite the 2.5 months we stayed there, he seemed to realize it was temporary.
After the bed was set up, he used the worn skirt of a mattress pad I trimmed off to make a nest in the nook. He can nap at my feet while I use the computer. That is where he is now.
Then he rediscovered the rocker/recliner chair, now in the living room. It was a favorite spot while we were staying at the motel. The seat is covered with a beach towel and lap robe to protect occupants from the spring that wore a hole in the fabric when the foam rubber stuffing deteriorated. There is ample material for fluffing up into a nest.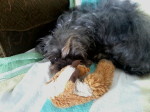 A few days ago I discovered the fourth nest in the hopefully temporary "box room" which he made from scraps of flannelette I have been saving for a sewing project.
These photos are from my Samsung S390G cell phone. I set up a second way to transfer photos/files (original method described here) to get around USB issues. When I got a DSL connection a week ago it came with a land line and a new mailbox. I connected the mailbox by POP3 on the phone and emailed the photo to myself on another account as an attachment. Still managing to work with outdated equipment. The DSL connection is working OK but doesn't address the major problem that most video now requires Adobe Flash Player 11.8 which is not available for my PPC iBook G4. I have found that if I reload a page with video several times it is sometimes possible to view an entire episode of PBS Masterpiece without it rebuffering every few seconds. I'm also having issues uploading photos to WordPress, had more to share but gave up.
I did a workaround to cut down on telemarketing calls that start a few days after a new landline. I connected an old answering machine that picks up after two rings with a recorded message. I turned the ringer volume down and am using the caller ID feature to screen the incoming calls in batches several times a day.
Yes, I registered on the Federal and Pennsylvania Do Not Call lists. Federal has a 30 day waiting period to purge your number from telemarketing lists even though it registers immediately if you do it through their web page. PA is worse, 30 days after the quarterly manual list update, so will be end of November before that is effective. Then there are the callers who totally ignore the Do Not Call lists. Sigh…