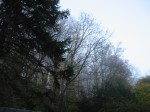 This is the second frosty morning of the season, not really a hard frost. The temperature is hovering near freezing and there is ground fog softening the edges on what will probably later be a crisp, clear day. The water flowing in the river is warmer than the air.
I took the photos below of the frost on Saturday morning. The nasturtiums by the front walk and the snapdragons by the front door seemed to suffer the most damage.
I am doing more reading and knitting lately. It is a way to keep occupied while staying off the feet in hopes that taking the weight off will ease joint pain while inflammation subsides. Getting caught up on unread P.D. James mysteries, wonder if it is coincidence but most seem to start in autumn.
Think I finally got most of the superwash wool yarn from hell (Halloween allusion) tackled. When you change the properties of a natural fiber chemically to gain supposedly desirable qualities (resistance to felting) you stand to lose good qualities. The little scales on the surface of the wool fibers are responsible for the ability to felt. They are also what gives wool yarn a "grabby" quality. Unfortunately removing the scales causes the yarn to be slippery like the synthetic substitutes. Most of the stuff I made ended up losing shape, very disappointing since I take pride in making things fit.
The last two lots of superwash were fine yarns that ended up being undershirts. Not sure if the superwash treatment also removes most of the absorbent nature and loft which make wool great for outdoor garments, but the two undershirts do seem to provide insulation. The tactic was to knit the shirts with a very snug fit, and top down so that the length used up the last bits of yarn. One of my first bad experiences with superwash wool nylon blend fingering weight yarn was a pair socks knitted for a friend. Both stretched badly when washed but one was about two inches longer than the other. That lot of yarn got unraveled, washed in skeins, and made into a floppy hat.
I am not posting photos of undies here nor on Ravelry, this is after all a PG site.
I brought in the pots of herbs on Friday evening. They are under the full spectrum fluorescent lamps in my mini-conservatory in the living room along with the house plants and some impatiens that are providing a splash of color. Yesterday I harvested a head of Romaine lettuce that was apparently the only success from the second planting from a mixed packet of lettuce seed. Last year I had a head of radicchio form late but waited too long.
Bode had a hard time getting going this morning. Kind neighbors and friends ask about him whenever I am out. He still enjoys riding in the car, so I take him along to run errands, but he doesn't get around very well. The exception seems to be along the River Trail. It is quiet there and there is a small parking lot near where the trail branches off from the Armstrong Trail on the old railroad line.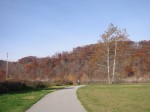 When we stopped there after shopping on Saturday a neighbor out walking stopped to say hello. He was smoldering with complaints about the coal trucks that run through the borough along PA Route 128, really regretted that we have a good bridge between here and Cadogan. They begin a couple hours before sunrise Monday through Saturday. The "energy industry" is big here, not a lot of competition. Afterward thought that it might make a good blues song.
The Rollin' Coal Truck Blues
Got up this mornin' with an awful achy head;
Got up this mornin' with an awful achy head;
Coal trucks rollin' by shakin' my bed.
This here rust bucket mill town's been wiped off the slate;
This here rust bucket mill town's been wiped off the slate;
Got to burn that old old carbon, can't be late.
Hang on to your kids, don't let your pets stray;
Hang on to your kids, don't let your pets stray;
Road kill gettin' scraped up off the street and hauled away.
Too noisy to talk outside so we just stand and stare;
Too noisy to talk outside so we just stand and stare;
Bad luck, 'cause we live between here and there.
Feel free to add more verses as comments.