It seems to have happened so quickly. Most of February's snow and ice is gone now. The warm rains melted the ice cornice from the side of the house, apparently no damage, whew!
As the snow retreated in the front yard it revealed the tips of daffodil leaves emerging from the ground.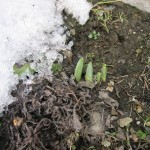 Found that the chives were also putting up new shoots and the garlic planted last fall was coming up as well.
As more snow melted, the pansies that seeded themselves and the forget-me-nots were showing green too.
This time last week I heard then saw a mockingbird at its usual post at 4th Street and 3rd Avenue. Over the weekend I saw an oven bird on the back porch. My first sighting of a robin was rather tragic though: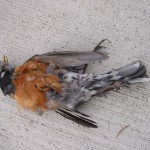 When I returned from the grocery store on March 3 a neighbor told me that she heard a robin for the first time that morning. When I got to the house, saw the poor thing on the sidewalk between my place and John's. Apparently a traffic fatality.
Spring happens every year, but seems that it was much more dramatic this year because of all the snow last month.